Amy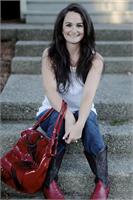 Amy's love of movement began at an early age, dancing at a local studio in Danville. In high school, she was introduced to Sports Medicine, which really piqued her interest in health, functional training, and rehabilitation. This encouraged her to go on to graduate from CSU Chico with a degree in Exercise Physiology. After college, Amy came across Pilates and instantly fell in love. She knew she was meant to teach Pilates, and encourage and lead others to live a healthy life through fitness. She is so happy to be able to share her love of Pilates with all her clients. Amy completed her Pilates instructor training through Balanced Body (comprehensive) and IM=X Pilates. She is also licensed to teach TRX and Spin.
Amy instructs the following:



This class features advanced level exercise progressions on the reformer. Class speed may vary from moderate to faster paced at the instructor's discretion. Max capacity is 8 participants.


IMPORTANT: It is STRONGLY RECOMMENDED that clients have taken a minimum of 20 All Levels reformer classes or received instructor clearance prior to enrolling in an Intermediate/Advanced Pilates Reformer class. Clients with any physical limitations or injuries must be conscious of and comfortable with their own appropriate modifications.




Progress your cardio training with a full hour of spinning on the smooth-as-butter Keiser M3 Plus spin bikes! Great for cardio endurance training and fat loss. The instructor takes the class through a series of intervals, varying RPMs, resistance levels, and riding positions on the bike. This class is appropriate for all levels, as every participant is encourage to work at their own pace and ability level. Athletic shoes required. Clip-in riding shoes optional.