Amanda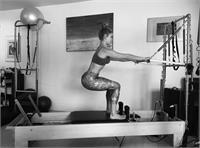 Amanda grew up in Dallas, TX and began studying ballet at the age of 3. She studied ballet and choreography intensively at The Boston Conservatory and went on to pursue her career as a professional ballet dancer at Nashville Ballet, Ballet Theatre of Maryland and Ballet Inc NYC. Amanda developed a passion for fitness throughout her dance career, using pilates and personal training as rehabilitation for various injuries. She decided to share her love and knowledge for fitness and got certified as a pilates instructor as well as a NCSF certified personal trainer in NYC. She has taught bootcamp classes, strength and conditioning, HIIT, TRX, and pilates at various studios in New York City and later in Los Angeles. Amanda just moved to the Bay area this summer and is teaching pilates and TRX classes at Proformance Pilates.
Amanda instructs the following:
This is our standard Pilates reformer class, which features the basic Pilates exercises plus their progressions, as well as intermediate exercises. This class flows at a moderate pace, and instructors may offer progressions or modifications on an individual basis, if needed. Max capacity is 8 participants.




Mat Pilates using such apparatus as a Pilates Arc, Foam Roller, Thera Bands, Balance Balls, Pilates Chair etc. Stretch, Release and Move...!