Heather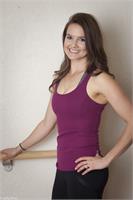 Heather is a cyclist, surfer, runner, hiker, and loves sharing her passion for being active with others. As a certified personal trainer she enjoys teaching people about functional movement and the benefits of living a healthy lifestyle. She is constantly exploring new ways to help people strengthen their bodies and live a life free from pain, especially low back pain through Foundation Training, TRX Training, and other functional movement patterns.
Heather instructs the following:
Foundation Training is a low impact, highly effective workout that increases core strength, improves posture and stability, and relieves back pain. These poses will correct the poor movement habits that have led to a weak core and possibly even chronic pain. Come retrain your body to move properly with a strong core and back!

Side effects will include:
- improved posture
- relief of aches and pains
- increased confidence




Progress your cardio training with a full hour of spinning on the smooth-as-butter Keiser M3 Plus spin bikes! Great for cardio endurance training and fat loss. The instructor takes the class through a series of intervals, varying RPMs, resistance levels, and riding positions on the bike. This class is appropriate for all levels, as every participant is encourage to work at their own pace and ability level. Athletic shoes required. Clip-in riding shoes optional.