Jill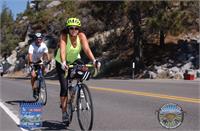 Jill Beeman has been an ACE Certified Fitness Instructor for 25 years currently focused on Spin and Body Pump. She has taught strength training along with high and low impact aerobics, step, bosu, aqua, ball and dance at several clubs in the Danville area. In addition, when her 3 kids left the nest, she coached the Monte Vista Girls Tennis Team for 3 years after having coached Ladies Doubles clinics for 6 years. Her latest passion is bike riding outdoors so spinning to music is the perfect combination. Let her know your favorite songs and she will incorporate it into her high intensity interval class.
Jill instructs the following:



Progress your cardio training with a full hour of spinning on the smooth-as-butter Keiser M3 Plus spin bikes! Great for cardio endurance training and fat loss. The instructor takes the class through a series of intervals, varying RPMs, resistance levels, and riding positions on the bike. This class is appropriate for all levels, as every participant is encourage to work at their own pace and ability level. Athletic shoes required. Clip-in riding shoes optional.