Alex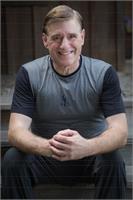 Alex is a reformed couch potato, who discovered movement over 14 years ago and has been moving ever since. After losing a lot of weight in 2007, Alex starting practicing Pilates and he has not looked back. Five years ago, he began his journey as a Pilates Instructor and has completed his entire instructor training at the Absolute Center in Lafayette. Alex's passion for wellness and movement, combined with his expanding knowledge, enthusiasm and energy are reflexed in his private and group sessions. Alex has a Ph.D. in Biochemical Pharmacology and he worked in the Biotech R&D world for many years before redefining himself a few years ago. Fun Fact: Alex owns two Shiba Inu dogs and a Bengal cat, but if his wife didn't stop him, their house would more like a zoo, with lots of exotic creatures.
Alex instructs the following:
This is our standard Pilates reformer class, which features the basic Pilates exercises plus their progressions, as well as intermediate exercises. This class flows at a moderate pace, and instructors may offer progressions or modifications on an individual basis, if needed. Max capacity is 8 participants.