Dean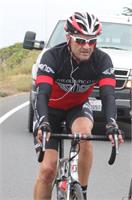 If you need inspiration, look no further than Dean Woerner. Dean changed his lifestyle 16 years ago and became one the most consistent triathletes in the Bay Area. He has been an All-American in the sport for more than 10 years, competing in close to 200 endurance race events, 3 full Ironman Triathlons, and over 40 Half-Ironmans. Biking is his true passion and he has participated in 9 Death Rides in the Sierra Mountains.
After a back injury, Dean discovered Pilates as a means to strengthen and balance his back muscles. Pilates helped him learn the importance of core strength and stability training and how essential it is for any athlete for the longevity of their career and for injury prevention.
Dean instructs the following:
Progress your cardio training with a full hour of spinning on the smooth-as-butter Keiser M3 Plus spin bikes! Great for cardio endurance training and fat loss. The instructor takes the class through a series of intervals, varying RPMs, resistance levels, and riding positions on the bike. This class is appropriate for all levels, as every participant is encourage to work at their own pace and ability level. Athletic shoes required. Clip-in riding shoes optional.